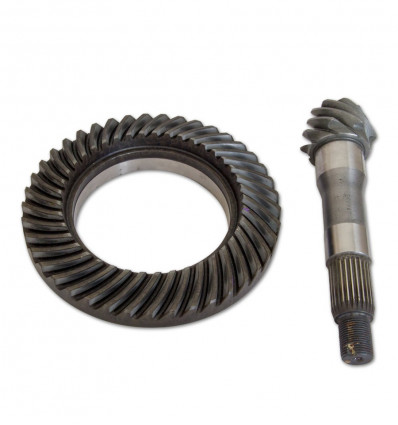  
Crown Ring and Pinion Gear, 5.13, Suzuki Santana Samurai
Crown ring and pinion gear, 5.13 ratio with :
- 1 drive pinion (8 teeth)
- 1 crown ring (41 teeth)

To be assembled on the front or rear of all petrol and diesel Suzuki and Santana Samurai 4WD, EXCEPT narrow 410.

Caution : A great setting shim for crown ring and pinion gear will be necessary for the assembly.

Quality : original.
Description
The 5.13 ratio ensures a reduction of all the gears which enables you to switch to bigger tyres without losing power.

The crown ring and pinion gear are perfect for all uses : road,  track and off-road.

They ensure the transmission of the engine's rotation movement to the wheels, through the drive shafts. The drive pinion and the crown are indivisible and play the part of a gear, inside the front axle housing.