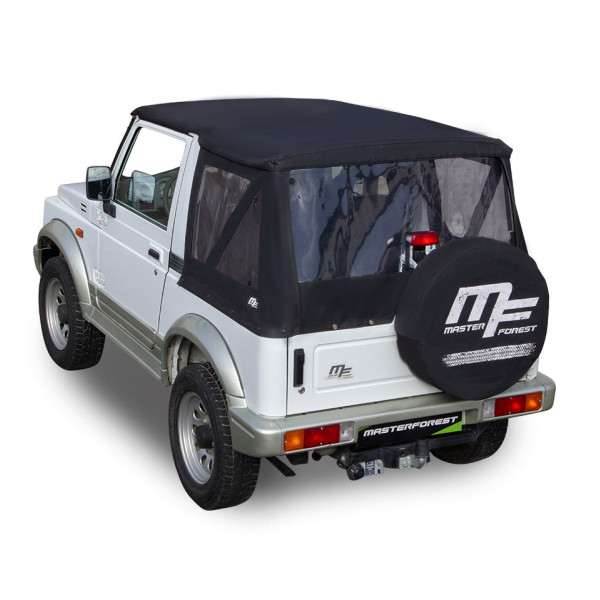  
MF Premium black modular soft-top, Suzuki Santana Samurai
Black cotton modular soft-top for all petrol and diesel Suzuki or Santana Samurai sj410, sj413 4WD with a short frame.
3 rear, removable windows with YKK zip.
Suitable for the Samurai after 1998 with rear roll bar on which the seat belts are fixed.
To be assembled in place of the original.
Description
The MF Premium soft-top is the high-end traditionally crafted soft-top for Suzuki !
With its 3 removable rear windows, you can now adapt it to your desires and needs.
In order to meet your expectations, we have designed a tarp using all the criteria of first choice.
Strong and very thick 100% cotton fabric (no PVC or vinyl).
High quality YKK zippers.
High quality clear window glazing.
Sewn together (no gluing).
Metal accessories (no plastic).
Technical informations:
Very thick, strong and waterproof materials
Canvas 780 GSM, 100 % cotton, 100 % waterproof.
The canvas is anti-mold.
High resistance to light.
Care instructions:
The cotton canvas is a natural material, durable and very resistant, but which requires some care.
We advise you to fix the soft top and then to water it so that it can be correctly stretched on the vehicle during the drying process.
To ensure the longevity of your soft top, we advise you to apply a coat of Fabsil waterproofing agent every 6 to 12 months.
The fabric should be cleaned by hand with tempered water and a brush or soft cloth. Do not use detergent and do not pressure wash your soft top.
6 other products in the same category: